Bell Hooks Love Quotes and Sayings
1. The moment we choose to love, we begin to move against domination, against oppression. The moment we choose to love, we begin to move toward freedom, to act in ways that liberate ourselves and others.
_____________________________________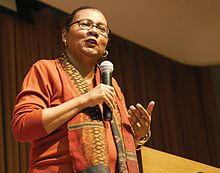 Excerpt from Wikipedia: Gloria Jean Watkins (born September 25, 1952), better known by the pen name Bell hooks, is an American author, feminist, and social activist. Her writing has focused on the interconnectivity of race, class, and gender and their ability to produce and perpetuate systems of oppression and domination. She has published over thirty books and numerous scholarly and mainstream articles, appeared in several documentary films and participated in various public lectures. Primarily through a postmodern perspective, she has addressed race, class, and gender in education, art, history, sexuality, mass media and feminism.
_____________________________________
Sayings by Bell Hooks (Gloria Jean Watkins)
1. Death is with you all the time; you get deeper in it as you move towards it, but it's not unfamiliar to you. It's always been there, so what becomes unfamiliar to you when you pass away from the moment is really life.
2. For me, forgiveness and compassion are always linked: how do we hold people accountable for wrongdoing and yet at the same time remain in touch with their humanity enough to believe in their capacity to be transformed?
3. I thought about how we need to make children feel that there are times in their lives when they need to be alone and quiet and to be able to accept their aloneness.
4. I will not have my life narrowed down. I will not bow down to somebody else's whim or to someone else's ignorance.
5. I'm so disturbed when my women students behave as though they can only read women, or black students behave as though they can only read blacks, or white students behave as though they can only identify with a white writer.
6. It's in the act of having to do things that you don't want to that you learn something about moving past the self. Past the ego.
7. We judge on the basis of what somebody looks like, skin color, whether we think they're beautiful or not. That space on the Internet allows you to converse with somebody with none of those things involved.