Bryan Adams Love Quote and Sayings
1. When you can see your unborn children in her arms, you know you really love a woman.
_____________________________________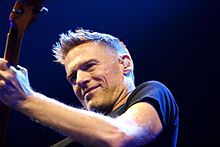 Excerpt from Wikipedia: Bryan Adams, (born Bryan Guy Adams on November 5, 1959) is a Canadian rock singer-songwriter and photographer. Rolling Stone magazine describes Adams as having an "unerring gift for radio-friendly pop hooks". He has been nominated for several Grammy Awards; and was first nominated at the 28th Grammy Awards for Reckless and "It's Only Love" and won the Grammy and in 1992 won the award for "Best Song Written for a Motion Picture, Television or Other Visual Media".
_____________________________________
Sayings by Bryan Adams
1. Thoughts are things; they have tremendous power. Thoughts of doubt and fear are pathways to failure. When you conquer negative attitudes of doubt and fear you conquer failure. Thoughts crystallize into habit and habit solidifies into circumstances.
2. I got in trouble with the police, and that was a rude awakening. That was it. I'd seen the bottom of the pit, and it was time to scrape myself out of it.