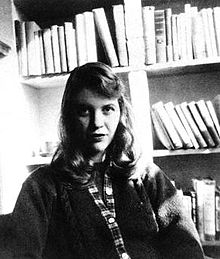 Excerpt from Wikipedia: Sylvia Plath (October 27, 1932 – February 11, 1963) was an American poet, novelist, and short-story writer. Plath is credited with advancing the genre of confessional poetry and is best known for her two published collections, The Colossus and Other Poems, and Ariel. She also wrote The Bell Jar, a semi-autobiographical novel published shortly before her death. In 1982, she won a posthumous Pulitzer Prize for The Collected Poems.
Sylvia Plath Quotes and Sayings
1. How frail the human heart must be — a mirrored pool of thought.
2. I shut my eyes and all the world drops dead; I lift my lids and all is born again.
The Bell Jar (1963)
3. The silence depressed me. It wasn't the silence of silence. It was my own silence. I knew perfectly well the cars were making a noise, and the people in them and behind the lit windows of the buildings were making a noise, and the river was making a noise, but I couldn't hear a thing. The city hung in my window, flat as a poster, glittering and blinking, but it might just as well not have been there at all, for the good it did me.
4. There is something demoralizing about watching two people get more and more crazy about each other, especially when you are the only extra person in the room.
5. If you expect nothing from somebody you are never disappointed.
6. I saw myself sitting in the crotch of this fig tree, starving to death, just because I couldn't make up my mind which of the figs I would choose. I wanted each and every one of them, but choosing one meant losing all the rest, and, as I sat there, unable to decide, the figs began to wrinkle and go black, and, one by one, they plopped to the ground at my feet.
The Unabridged Journals of Sylvia Plath (2000)
7. I love people. Everybody. I love them, I think, as a stamp collector loves his collection. Every story, every incident, every bit of conversation is raw material for me. My love's not impersonal yet not wholly subjective either. I would like to be everyone, a cripple, a dying man, a whore, and then come back to write about my thoughts, my emotions, as that person. But I am not omniscient. I have to live my life, and it is the only one I'll ever have. And you cannot regard your own life with objective curiosity all the time.
8. With me, the present is forever, and forever is always shifting, flowing, melting. This second is life. And when it is gone it is dead. But you can't start over with each new second. You have to judge by what is dead. It's like quicksand … hopeless from the start.
9. Perhaps when we find ourselves wanting everything, it is because we are dangerously near to wanting nothing.
10. I can never read all the books I want; I can never be all the people I want and live all the lives I want. I can never train myself in all the skills I want. And why do I want? I want to live and feel all the shades, tones and variations of mental and physical experience possible in my life. And I am horribly limited.
Quotes attributed to Sylvia Plath
11. And by the way, everything in life is writable about if you have the outgoing guts to do it, and the imagination to improvise. The worst enemy to creativity is self-doubt.
12. The hardest thing is to live richly in the present without letting it be tainted out of fear for the future or regret for the past.
13. Remember, remember, this is now, and now, and now. Live it, feel it, cling to it. I want to become acutely aware of all I've taken for granted.
14. I talk to God but the sky is empty.